Elevator Bucket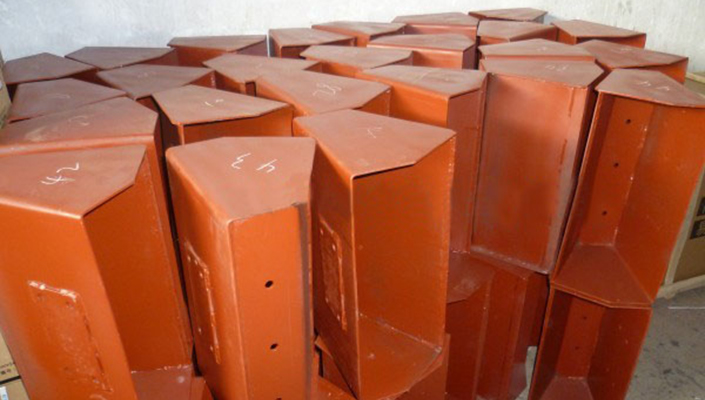 Name: Scrapper
Suitable For: Asphalt plant, cement plant, shot blasting machine
Materials: High chromium cast steel
Customizable or not: Customizable; made to customers' drawings or samples
Part model: Based on customer's needs
Order quantity: Based on customer's needs
Packaging details: Composite material box
Delivery cycle: 15 days
Certifications: CE, ISO9001
Applications
At Casting parts, as a prominent asphalt plant spares manufacturer, we are proud to provide custom made bucket elevator buckets for various types and brands of asphalt plants. The asphalt plant accessories are perfect for vertically transporting powdery, granular and small blocky materials in the asphalt or cement production process.
Asphalt Plant Brands
AMMANN, MARINI, SPECO, PARKER, LINTECH, LINHOFF, ASTEC, BENNIGHOVEN, SANY, ZOOMLION, NFLG, CA-LONG, TTM, XCMG, HUATONG, DG, ROADY, XRMC, XUETAO, XITONG, and more.
Samples Show
Specifications
| | |
| --- | --- |
| Hardness | 52-62HRC |
| Life | More than 200000 cubic meter concrete or 300000 tons asphalt |
| Materials | High chromium cast iron/steel |
| Standards | CN:KM TB Cr 15-25-GTUS:ASTM A532 Class Two Type D |
| Extension strength | 380 N/mm2 |
| Elongation at break | 1% |
| Shock impact (resistance) value | >5 ak N.M/CM2 |
| Flexural strength | >600 ak N.M/CM2 |
| Certifications | ISO9001:2008, CE |
| Metallographic organization | M+M7C3+M23C6 |
| Process | Lost Foam Casting |
Chemical Compositions
Name
Chemical Compositions %
Hardness
C
P
S
Si
Mn
Cr
Ni
Mo
Cu
Special high chrome steel
2.8~3.1
<0.06
<0.06
0.8
0.8
22
<1
<1
<0.5
62
High chrome steel
2.8~3.1
<0.06
<0.06
0.8
0.8
15
<0.5
52
Low chrome steel
2.8~3.1
<0.06
<0.06
0.8
0.8
3
48
High manganese steel
1.2
<0.06
<0.06
16
45
Alloy steel casting
1.2
<0.06
<0.06
2
1
45