Intermediate Diaphragms
Materials: Mn13Cr2, Mn14Cr2, Mn18Cr2
Customizable or not: Yes
Applicable ball mills: ShanBao, Metso, Symons, Sandvik, Yifan, Kue-Ken, Kleemann, SBM, etc.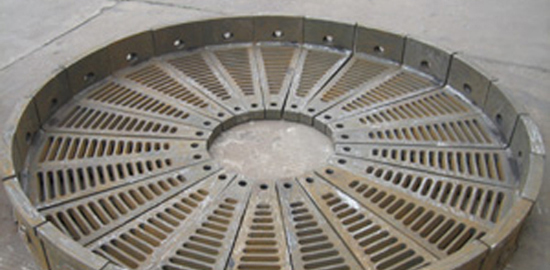 Intermediate Diaphragms Assembly
Product Purposes
1. Separating Grinding Media
The essential ball mill components can separate the grinding media and keep the sizes of grinding media gradually reducing from coarse grinding chamber to fine grinding chamber. This makes sure that large grinding balls grind large materials and small grinding balls grind small materials.
2. Screening Ground Materials
The intermediate diaphragm comes with thin slots that can retain the grinding balls and materials with a size above the slot in the prior grinding chamber, ensuring the materials can not enter the following chamber until they are ground into qualified size.
3. Controlling the Flow Rate of Materials and Air
The central discharge diaphragms with reasonable slot width, length and area, lowest slot position and slots arrangement methods can effectively control the volume of materials in the chamber and materials and air flow rate. They can also keep proper ratio of grinding media to materials.
Intermediate Diaphragm Structure